| | |
| --- | --- |
| FOR IMMEDIATE RELEASE | |
STEPS ON BROADWAY IS THE DESTINATION FOR PROFESSIONAL AND INTENSIVE DANCE TRAINING
Steps Conservatory, Summer Study NYC: A Contemporary Intensive, International Independent Study Program and The School at Steps Summer Intensive Seek Talent with International Audition Tour 
 Steps on Broadway, NYC's legendary professional dance center committed to training and maintaining the integrity of the art form, increases their international reach with a first-time national and international audition tour. Led by newly appointed Student Programs Audition Director, Davis Robertson, under the direction of Mindy Upin Jackson, Director of Professional Training Programs, and Kate Thomas, Director of The School at Steps, a 12-city tour is underway through early Spring and offers the dedicated dancer various opportunities for study during the summer months and beyond.  Through intensive training, performance, and evaluations, these intimate curriculum-based programs, Summer Study NYC: A Contemporary Intensive, Steps Conservatory, and the International Independent Study Program, create polished, versatile dancers brimming with the confidence and enthusiasm to enter the highly competitive world of concert and commercial dance. The audition tour will also be recruiting students for The School at Steps' Senior Summer Intensive, for aspiring professional dancers ages 15-18.
"While we are a home for local dancers to maintain their training, our carefully curated programs utilize the expansive network we have built at Steps, and open our doors to dancers from all over the world throughout the year," explains Diane Grumet, Co-Artistic Director of Steps on Broadway. "These summer programs give dancers an important next step in their training—broadening their home studio or university training with leading choreographers and artists in the dance capital of the world that is New York City."
Summer Study NYC: A Contemporary Intensive (ages 18 and older) is specifically designed for the dancer preparing for a professional career. This program offers intermediate and advanced dancers, one or two 4-week sessions with classes taught by world-renowned contemporary masters as well as by our illustrious faculty. This intensive is designed to strengthen technique and artistry and provide an introduction to NYC's professional dance community. Students take 17 classes per week including technique, Steps with Contemporary Masters, Creative Tools, and Performance Skills, and build relationships with at least nine Artistic Directors and Contemporary choreographers in each session. Students from past summers have been hired by Heidi Latsky Dance, Janis Brenner & Dancers, have freelanced with Francesca Harper, and been awarded apprenticeships with Rioult Dance NY. Upon fulfilling program requirements, students receive a Certificate of Completion at their final performance.
Steps Conservatory (ages 17-24) is a two-year curriculum-based intensive program specifically designed to strengthen technique and artistry, thus preparing the dancer for a professional career in either the concert or commercial dance world. Dancers in the Conservatory take 15-18 weekly classes from our daily schedule as well as private Performance Enrichment workshops, such as vocal training, health and wellness, repertory, composition, dance history, career development, and much more. Over the two years, students build a professional network, thereby positioning themselves for future employment. The program provides an introduction to NYC's professional dance community, not only through study but also through multiple performance opportunities throughout the four semesters. Upon fulfilling program requirements, students receive a Certificate of Completion.
International Independent Study Program (ages 18-35) is designed so that each participant has the flexibility to create their own class schedule and experience New York City's dance community in motion. This M-1 visa program is designed for dancers and dance educators at the intermediate to professional level, who want to explore the diversity of techniques and styles Steps has to offer. To date, the program has hosted dancers from Canada, Mexico, Brazil, Uruguay, Colombia, Argentina, United Kingdom, Spain, Morocco, Hungary, Austria, Netherlands, Sweden, Germany, France, Italy, Australia, Ukraine, Israel, Lebanon, Uzbekistan, India, South Africa, Japan, and Taiwan. Students may join the program for three, six or twelve months.
The School at Steps Summer Intensives offer a rigorous multidisciplinary curriculum for the aspiring professional dancer. A minimum of four to five years of significant ballet training is required. Students are placed by audition in either the Junior (ages 9-12) or Senior Intensive (ages 12-18) based on age and ability, each with their own set of core classes and minimum class requirements. Daily classes in ballet and pointe are supplemented with pas de deux, variations, contemporary partnering, repertory, coaching, theater dance, jazz, hip hop, and Horton-based modern. Each session culminates in a studio performance.
AUDITION SCHEDULE AND INFORMATION
MEXICO: Escuela Cubana de Ballet de Veracruz, March 13
CHINA: The Hong Kong Academy for the Performing Arts, March 18
NEW YORK: Steps on Broadway, March 18, and May 13
NEW YORK: The School at Steps, February 25, March 4, March 18, April 8, and May 6
BOSTON: Boston Conservatory at Berklee, April 2
CHICAGO: Lou Conte Dance Studios/Hubbard Street Dance Center, April 22
JACKSONVILLE, FL: Florida Ballet, April 22
FLORIDA: Lauderhill Performing Arts Center, April 23
Dancers in Sydney, Australia, Florence, Genova, Milan, Urbino and Ravenna Italy have already auditioned.
For the full audition tour and information, visit http://www.stepsnyc.com/professional-training-programs/
PROGRAM LOCATION
All classes will take place at Steps on Broadway, located at 2121 Broadway between 74th and 75thStreets and is accessible by the 1,2,3, C, and B trains to 72nd Street.
###
ABOUT STEPS ON BROADWAY
Founded by Carol Paumgarten in 1979, Steps on Broadway is an internationally recognized training center providing excellence in programming that supports the art and the artist. Steps is home to more than 250 world-renowned teachers who offer over 300 dance and exercise classes a week. Throughout the year, Steps incorporates guest artists, special master classes, performances and special events. For over three decades Steps has been a training ground for generations of aspiring and professional dancers. Steps also offers professional training programs which include the two-year Steps Conservatory, Summer Study NYC, International Independent Study Program, and Steps' Steele Pilates Teacher Mat Certification.
ABOUT THE SCHOOL AT STEPS
Directed by Kate Thomas, The School at Steps cultivates young dancers, ages 18 mos. – 18 yrs., from their first step in a dance studio through their pre-professional training. Students discover their individual artistic voices in a creative environment with the guidance of an internationally recognized faculty. The personal attention the school provides encourages students to mature as dancers, grow as individuals, and enrich their passion for the art form. School at Steps graduates go on to dance with professional companies, study at top college dance programs, and perform on Broadway.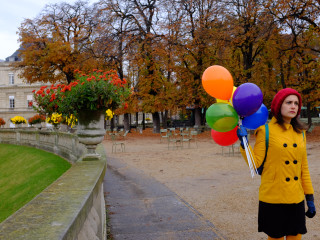 Creative Block is a short film about creativity and what happens when we lose it. It's about the distance we'll go to get it back again, and the people we invest our trust in along the way – maybe to be disappointed, maybe to come out stronger at the other end.
I'm Nicola Rose, producer of Creative Block, and I need your help to finish my film. We've shot one day of principal photography in Paris, France, and now we have the rest to do in NYC. I hope you'll consider helping me fund it.
Slideshow of our first filming day in Paris, Nov. 4, 2016

Creative Block: the story (in English and French) / Bloc et Blocage: L'histoire (en anglais et français)
A short film weaving surrealism into everyday life, Creative Block (French title Bloc et Blocage) introduces us to Claire, a young artist and puppet-maker in New York. One day, she suffers a huge rupture in her creative thought, leading to depression. She soon becomes convinced the only cure is the art of another: Thibaut, a figure skater in Paris. Spellbound by the artistry of this athlete she only knows from TV, Claire impulsively goes to Paris herself. There, she discovers the unexpected: Thibaut, too, is suffering from creative block. At that point, it's up to Claire to find the road back to her own creativity: a road strewn with disappointments, revelations … and balloons.
Court-métrage bilingue mêlant surréalisme et sentiments du quotidien, Creative Block (en français Bloc et Blocage) raconte un moment important dans la vie de Claire, jeune artiste et créatrice de marionnettes vivant à Manhattan. La jeune femme réalise qu'elle souffre d'une grande rupture dans sa vie créatrice et que le seul remède est l'art d'un autre. Celui de Thibaut, un patineur artistique vivant à Paris. Bouleversée par la personnalité artistique de ce dernier qu'elle ne connait qu'à travers la télévision, Claire, n'écoutant que ses pulsions, se rend à Paris. Elle y découvre l'inattendu : Thibaut, souffre de son propre blocage artistique ! C'est dorénavant à Claire de trouver la route qui la ramènera à sa propre créativité : une route bordée de déceptions, de révélations… et de ballons.
About the Filmmaker
Nicola Rose is a producer, director and actress in New York City. She is the creator of the short form comedy webseries Callie & Izzy, about a girl with a puppet growing out of her hand (you can see a couple of her favorite episodes below). She is also the creator of a musical, Aisle Six, which premiered Off-Broadway at NYC's Lynn Redgrave Theater in 2013. In addition, she works as a professional puppeteer in NYC, performing frequently for the New York  Public Library, American Scandinavian Foundation, children's museums, schools and more. She is a graduate of Columbia University and the Université Sorbonne-Nouvelle in Paris.
What we've done so far… and what we need now:
In November 2016, thanks to talented director Véronique Doumbé and a formidable production team in Paris, France, we shot the "French part" of our film! Needless to say, that was the most complicated part logistically (since I am based in New York). But from a technical standpoint, it was the simplest. That means the rest, the "New York part" of the film, is what will cost. We will need your help to cover the following:
Compensation of cast and crew
Equipment rental
Location rental
Construction and purchase of props
Insurance
Transportation
Meals for crew and cast
Post-production (editing, color, additional after-effects, music, subtitling)
How you can help, and what you get:
EVERY DOLLAR HELPS! I'm serious: Every. Single. Dollar. I've learned this from running (and donating to) prior campaigns. If you want to donate, but can only donate one dollar or euro, DO IT! It will pay for several minutes at a location; several batteries for equipment; postcards for publicity; part of a prop; a small portion of work from a crew member… you get the idea. EVERYTHING you donate will ease the burden on our producer (aka me) ;), and you'll be helping us to make a better film that YOU, with any luck, will love.
I've paid personally for what we've done so far, and I'd gladly do the same for the rest – but I can't. 🙂 And that's why I need you.
Please see the sidebar for the perks your donations will get you. I had fun thinking them up, and I hope you'll enjoy receiving them as well!
What's next?
Once financially able, we will begin shooting our New York scenes, which make up the majority of the film. We aim to finish production by mid-2017 and post-production later in the year, so that with any luck, the film will be finished and en route to festivals before 2018. Meanwhile, I am maintaining a "making-of" Tumblr about the film, which you can follow at http://creativeblockfilm.tumblr.com.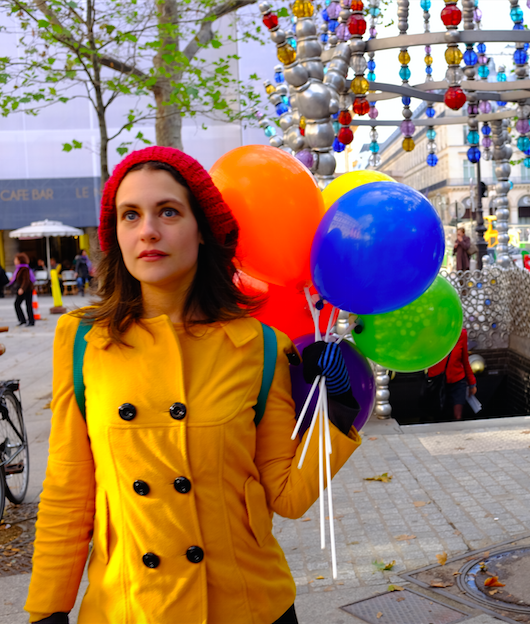 Thank you! / Questions?
First of all, thank you for reading this far! If you've done so, that means you're at least considering us. Second of all, thanks for listening — for being curious, and for considering this little film about creativity, depression and balloons. We hope you donate, but even if you don't, we're honored you thought of us.
If you have any questions at all, please email me at nicolarosemail@gmail.com.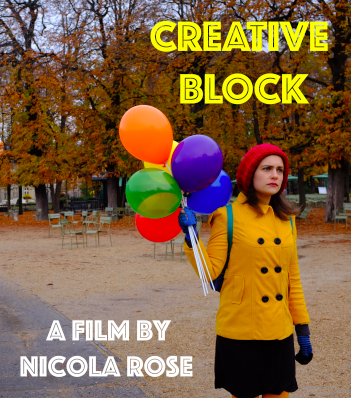 PERKS
FEATURED
All of the above plus a custom-made sock puppet!
Items included:
Thank-you on social media
Profile your business/project
Special Thanks in Credits
Custom-Made Sock Puppet!
6 claimed
Every single donation gets a heartfelt thank you from me on all our social media (Facebook, Twitter, Instagram, and Tumblr). Unless you don't want it, of course.
Items included:
Thank-you on social media
6 claimed
A thank you, plus we'll profile your business or a project of your choice on social media.
Items included:
Profile your business/project
17 claimed
A finger puppet made just for you!
Items included:
Thank-you on social media
Profile your business/project
Custom-Made Finger Puppet!
3 claimed
All of the above, plus you'll be listed in our credits under "Special Thanks To".
Items included:
Thank-you on social media
Profile your business/project
Special Thanks in Credits
9 claimed
All of the above, plus an exclusively designed Creative Block thank-you notecard.
Items included:
Thank-you on social media
Profile your business/project
Exclusively designed notecard
Special Thanks + Goodies
and

 

2 more

 

items
1 claimed
All of the above, plus an exclusive Creative Block balloon and a DVD of the film.
Items included:
Thank-you on social media
Profile your business/project
Creative Block balloon
DVD of the film
and

 

2 more

 

items
2 claimed
All of the above, plus a personalized video thank-you from Nicola, an official film poster, and credit as a Co-Producer.
Items included:
Thank-you on social media
Profile your business/project
Credit as Co-Producer
Exclusively designed notecard
and

 

5 more

 

items
0 claimed
All of the above, plus credit as Producer and an official "making of Creative Block" scrapbook.
Items included:
Thank-you on social media
Profile your business/project
Exclusively designed notecard
Credit as Producer
and

 

6 more

 

items
0 claimed
All of the above, plus a copy of the script and credit as Executive Producer.
Items included:
Profile your business/project
Exclusively designed notecard
Creative Block balloon
DVD of the film
and

 

6 more

 

items
0 claimed
https://js.stripe.com/v2/channel.html?stripe_xdm_e=https%3A%2F%2Fwww.indiegogo.com&stripe_xdm_c=default435313&stripe_xdm_p=1#__stripe_transport__
object id="d_dlg" classid="clsid:3050f819-98b5-11cf-bb82-00aa00bdce0b" width="0px" height="0px">