We highly recommend
TAKE ACTION! Share this with 10 people and donate $10!
Dear HAFamily,
We're launching a major video campaign today! As you may know, the new administration is threatening to cut all federal funding for the arts. We can't let this happen. In times like these, artists voices matter more than ever. Artists are here to shed light on the important issues communities face today. Art brings communities together, drives local economy, encourages creativity and diversity, promotes education, and challenges important issues like hatred, racism, sexism, anti-semitism, and more.
So today, we're starting a trend! We want to this video to reach 1,000 people in 10 days! Share/post this message on your Twitter/Facebook/Insta account today by clicking here or below! We're using a cool tool called Thunderclap that will help amplify our message.
Here's what we need:
As a Harlem transplant, Pinderhughes recognizes that his presence in the historic neighborhood is "a complicated reality." He recognizes that the same struggle with gentrification in Harlem is happening in the San Francisco Bay Area, where Pinderhughes was raised.
We sat down with Samora to learn more about his most recent acclaimed album, The Transformations Suite, and his thoughts on art and activism.
THINGS WE LOVE
HAF ARTIST NEWS + UPCOMING GREAT EVENTS!
NEW ARTIST TRACK: LI'L LIZA JANE
In anticipation of their forthcoming mixtape,
#HAF2015 Artist Sammy Miller and the Congregation
 released the 1st track of the mixtape! Listen to it on Spotify by clicking the image above or
here
— it'll get the party started! Be sure to check out their upcoming tour dates on their website as they'll be touring around the country. For everyone in New York, the release party will be next
Sunday, February 26th
at
The Woods
,
8 PM
. It'll be quite a party.!
EDDIE PALMIERI: CELEBRATING 80 YEARS
March 3-4

 @
 

8pm

, Jazz at Lincoln Center, Rose Theater
Eddie Palmieri is an incomparable performer and bandleader of some of the most energetic concerts in Jazz at Lincoln Center's history. This season, the NEA Jazz Master and nine-time Grammy Award-winner continues his fast-paced career in Rose Theater for an 80th birthday blowout. One of the finest pianists of the past 50 years, Palmieri is a bandleader, arranger, and composer known for skillfully fusing complex jazz harmonies with the rhythms of his Puerto Rican heritage and of various Afro-Latin and Afro-Caribbean fusions.
UPTOWN ARTS STROLL: CALLING ARTISTS AND VENDORS!
The Northern Manhattan Arts Alliance has announced a call for artists and all kinds of participants for the 15
th
 Uptown Arts Stroll, in Washington Heights-Inwood and West Harlem, from West 135th to 220th Street, in June. The stroll showcases the painters, photographers, writers, musicians, sculptors, actors, dancers and filmmakers in Northern Manhattan from
May 31 to June 30, 2017
, with $1,000 goes to this year's Uptown Arts Stroll poster contest winner, exclusive graphic representation on all publications throughout the month-long arts fest, and more!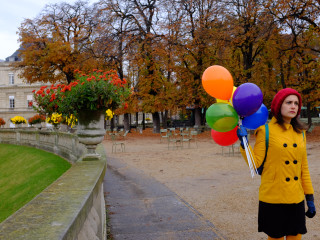 Creative Block is a short film about creativity and what happens when we lose it. It's about the distance we'll go to get it back again, and the people we invest our trust in along the way – maybe to be disappointed, maybe to come out stronger at the other end.
I'm Nicola Rose, producer of Creative Block, and I need your help to finish my film. We've shot one day of principal photography in Paris, France, and now we have the rest to do in NYC. I hope you'll consider helping me fund it.
Slideshow of our first filming day in Paris, Nov. 4, 2016

Creative Block: the story (in English and French) / Bloc et Blocage: L'histoire (en anglais et français)
A short film weaving surrealism into everyday life, Creative Block (French title Bloc et Blocage) introduces us to Claire, a young artist and puppet-maker in New York. One day, she suffers a huge rupture in her creative thought, leading to depression. She soon becomes convinced the only cure is the art of another: Thibaut, a figure skater in Paris. Spellbound by the artistry of this athlete she only knows from TV, Claire impulsively goes to Paris herself. There, she discovers the unexpected: Thibaut, too, is suffering from creative block. At that point, it's up to Claire to find the road back to her own creativity: a road strewn with disappointments, revelations … and balloons.
Court-métrage bilingue mêlant surréalisme et sentiments du quotidien, Creative Block (en français Bloc et Blocage) raconte un moment important dans la vie de Claire, jeune artiste et créatrice de marionnettes vivant à Manhattan. La jeune femme réalise qu'elle souffre d'une grande rupture dans sa vie créatrice et que le seul remède est l'art d'un autre. Celui de Thibaut, un patineur artistique vivant à Paris. Bouleversée par la personnalité artistique de ce dernier qu'elle ne connait qu'à travers la télévision, Claire, n'écoutant que ses pulsions, se rend à Paris. Elle y découvre l'inattendu : Thibaut, souffre de son propre blocage artistique ! C'est dorénavant à Claire de trouver la route qui la ramènera à sa propre créativité : une route bordée de déceptions, de révélations… et de ballons.
About the Filmmaker
Nicola Rose is a producer, director and actress in New York City. She is the creator of the short form comedy webseries Callie & Izzy, about a girl with a puppet growing out of her hand (you can see a couple of her favorite episodes below). She is also the creator of a musical, Aisle Six, which premiered Off-Broadway at NYC's Lynn Redgrave Theater in 2013. In addition, she works as a professional puppeteer in NYC, performing frequently for the New York  Public Library, American Scandinavian Foundation, children's museums, schools and more. She is a graduate of Columbia University and the Université Sorbonne-Nouvelle in Paris.
What we've done so far… and what we need now:
In November 2016, thanks to talented director Véronique Doumbé and a formidable production team in Paris, France, we shot the "French part" of our film! Needless to say, that was the most complicated part logistically (since I am based in New York). But from a technical standpoint, it was the simplest. That means the rest, the "New York part" of the film, is what will cost. We will need your help to cover the following:
Compensation of cast and crew
Equipment rental
Location rental
Construction and purchase of props
Insurance
Transportation
Meals for crew and cast
Post-production (editing, color, additional after-effects, music, subtitling)
How you can help, and what you get:
EVERY DOLLAR HELPS! I'm serious: Every. Single. Dollar. I've learned this from running (and donating to) prior campaigns. If you want to donate, but can only donate one dollar or euro, DO IT! It will pay for several minutes at a location; several batteries for equipment; postcards for publicity; part of a prop; a small portion of work from a crew member… you get the idea. EVERYTHING you donate will ease the burden on our producer (aka me) ;), and you'll be helping us to make a better film that YOU, with any luck, will love.
I've paid personally for what we've done so far, and I'd gladly do the same for the rest – but I can't. 🙂 And that's why I need you.
Please see the sidebar for the perks your donations will get you. I had fun thinking them up, and I hope you'll enjoy receiving them as well!
What's next?
Once financially able, we will begin shooting our New York scenes, which make up the majority of the film. We aim to finish production by mid-2017 and post-production later in the year, so that with any luck, the film will be finished and en route to festivals before 2018. Meanwhile, I am maintaining a "making-of" Tumblr about the film, which you can follow at http://creativeblockfilm.tumblr.com.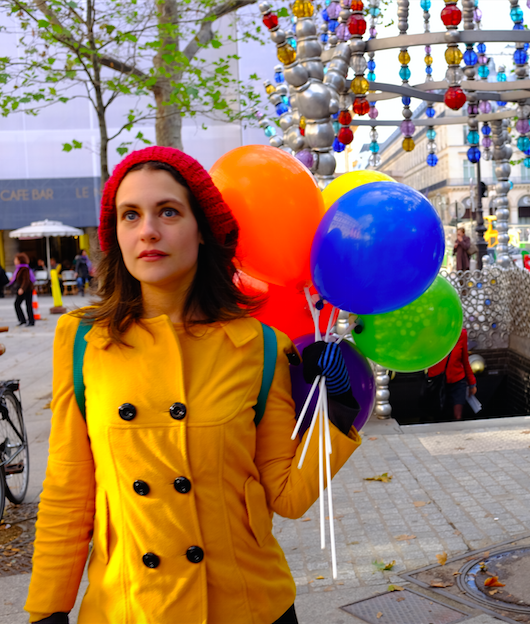 Thank you! / Questions?
First of all, thank you for reading this far! If you've done so, that means you're at least considering us. Second of all, thanks for listening — for being curious, and for considering this little film about creativity, depression and balloons. We hope you donate, but even if you don't, we're honored you thought of us.
If you have any questions at all, please email me at nicolarosemail@gmail.com.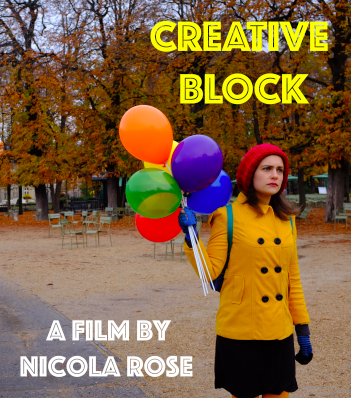 PERKS
FEATURED
All of the above plus a custom-made sock puppet!
Items included:
Thank-you on social media
Profile your business/project
Special Thanks in Credits
Custom-Made Sock Puppet!
6 claimed
Every single donation gets a heartfelt thank you from me on all our social media (Facebook, Twitter, Instagram, and Tumblr). Unless you don't want it, of course.
Items included:
Thank-you on social media
6 claimed
A thank you, plus we'll profile your business or a project of your choice on social media.
Items included:
Profile your business/project
17 claimed
A finger puppet made just for you!
Items included:
Thank-you on social media
Profile your business/project
Custom-Made Finger Puppet!
3 claimed
All of the above, plus you'll be listed in our credits under "Special Thanks To".
Items included:
Thank-you on social media
Profile your business/project
Special Thanks in Credits
9 claimed
All of the above, plus an exclusively designed Creative Block thank-you notecard.
Items included:
Thank-you on social media
Profile your business/project
Exclusively designed notecard
Special Thanks + Goodies
and

 

2 more

 

items
1 claimed
All of the above, plus an exclusive Creative Block balloon and a DVD of the film.
Items included:
Thank-you on social media
Profile your business/project
Creative Block balloon
DVD of the film
and

 

2 more

 

items
2 claimed
All of the above, plus a personalized video thank-you from Nicola, an official film poster, and credit as a Co-Producer.
Items included:
Thank-you on social media
Profile your business/project
Credit as Co-Producer
Exclusively designed notecard
and

 

5 more

 

items
0 claimed
All of the above, plus credit as Producer and an official "making of Creative Block" scrapbook.
Items included:
Thank-you on social media
Profile your business/project
Exclusively designed notecard
Credit as Producer
and

 

6 more

 

items
0 claimed
All of the above, plus a copy of the script and credit as Executive Producer.
Items included:
Profile your business/project
Exclusively designed notecard
Creative Block balloon
DVD of the film
and

 

6 more

 

items
0 claimed
https://js.stripe.com/v2/channel.html?stripe_xdm_e=https%3A%2F%2Fwww.indiegogo.com&stripe_xdm_c=default435313&stripe_xdm_p=1#__stripe_transport__
object id="d_dlg" classid="clsid:3050f819-98b5-11cf-bb82-00aa00bdce0b" width="0px" height="0px">