Whitney Museum announces its Closing EXHIBITION in 2014
When the great Whitney Museum closes uptown to move to lower Manhattan, this will be the CLOSING EXHIBITION: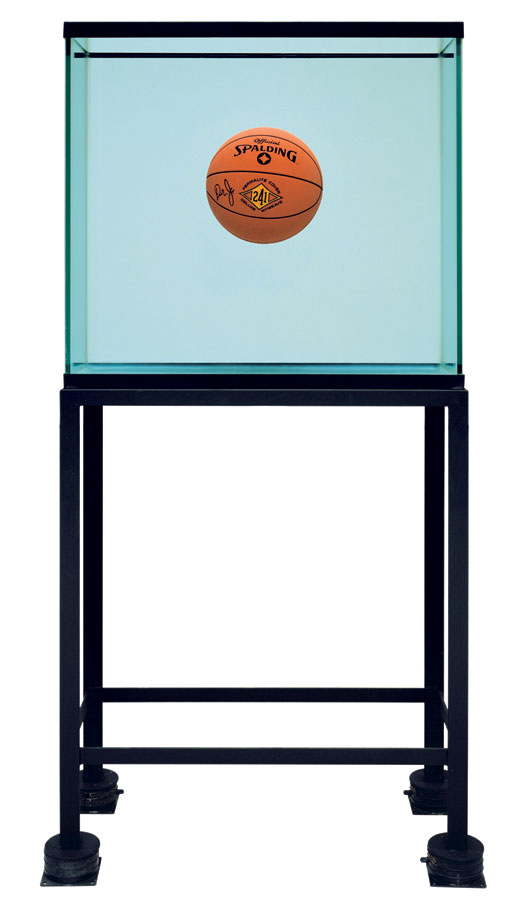 CONTACT
Whitney Museum of American Art
945 Madison Avenue at 75th Street
New York, NY 10021
General Information: (212) 570-3600
whitney.org
---
WHITNEY TO CONCLUDE UPTOWN
EXHIBITION PROGRAMMING WITH
JEFF KOONS: A RETROSPECTIVE
This June, the Whitney Museum of American Art will debut the most comprehensive retrospective ever devoted to the groundbreaking art of Jeff Koons. This unprecedented exhibition will be the artist's first large-scale museum presentation in New York and also the first time that a single artist's work will fill nearly the entire Whitney Museum. Organized by curator and associate director of programs Scott Rothkopf, the exhibition surveys more than three decades of Koons's art and includes approximately 120 works across a variety of mediums. On view from June 27 through October 19, 2014, this landmark retrospective will be the Whitney's grand finale in its uptown Breuer building before the Museum opens its new facility downtown in spring 2015. Jeff Koons: A Retrospective will travel to the Centre Pompidou in Paris from November 26, 2014, to April 27, 2015, and following its presentation in Paris to the Guggenheim Museum Bilbao in summer 2015.
Over the past thirty-five years, Jeff Koons has become one of the most popular, influential, controversial, and important artists of the postwar generation. Throughout his career, he has pioneered new approaches to the readymade, tested the boundaries between advanced art and mass culture, and challenged the limits of industrial fabrication in works of great beauty and emotional intensity. Outside of his studio, Koons has transformed the relationship of artists to the cult of celebrity and the global market to become one of the best-known visual artists alive today. Above all, he is the maker of some of the most indelible icons of contemporary art, including One Ball Total Equilibrium Tank (1985), Rabbit (1986), Michael Jackson and Bubbles (1988), Made in Heaven (1989), and Balloon Dog (1994–2000), all of which will be included in the Whitney retrospective.
As the first complete chronological narrative of Koons's art in more than two decades, this exhibition will situate each of these sculptures within the context of the diverse series in which they originated, while also revealing the trajectory of these bodies of work across the arc of Koons's career. In addition, the Whitney will premiere several new pieces by Koons, including the monumental Play-Doh, which the artist has been working on for more than twenty years.
Adam D. Weinberg, the Whitney's Alice Pratt Brown Director notes: "Jeff Koons is one of the most significant artists of our era, and this retrospective will allow us for the first time to take the full measure of his art. Never before have so many of his works been on view together, nor has the Whitney ever devoted so much space to a single artist. We felt it was a wonderful opportunity to celebrate the closing of our uptown building with an exhibition of great scholarly rigor that also promises to be a major international cultural event."
Rothkopf remarks: "Koons is widely known as the maker of a handful of iconic objects, but this retrospective will for the first time demonstrate how they fit together as part of a compelling and multifaceted story that will surprise even those familiar with his work. The incredible range of his materials, subjects, scales, formal approaches, and techniques is virtually unparalleled and will make for a dramatic narrative full of plot twists and discoveries. It's hard to think of another living artist who has pushed as many aesthetic and cultural limits as Koons has."
The Museum will devote its lobby, second, third, and fourth floors, as well as its outdoor sculpture court (approximately 27,000 square feet) to the exhibition, displaying a range of pieces from each stage of the artist's career and representing the following series: Inflatables (1979), Pre-New (1979–80), The New (1980–87), Equilibrium (1985), Luxury & Degradation (1986), Statuary (1986), Banality (1988), Made in Heaven (1989–91), Easyfun (1999–2003), Celebration (1994–2007), Popeye (2003), Hulk Elvis (2004–2007), Antiquity (2009–2012), and Gazing Ball (2013).
Throughout this diverse body of work, Koons has achieved remarkable consistency in his overarching themes and technical rigor. He has elevated familiar objects—inflatable toys, basketballs, vacuum cleaners—from the mundane to the exceptional, shining a hard light on the culture in which we live and art's place within that culture.
---
ABOUT JEFF KOONS
Jeff Koons was born in 1955 in York, Pennsylvania. He studied at the Maryland Institute College of Art in Baltimore and at the School of the Art Institute of Chicago before moving to New York City in 1976.
In 1980, the New Museum of Contemporary Art mounted Koons's first solo exhibition, The New: Jeff Koons, an installation that comprised wall-mounted vacuum cleaners with fluorescent lights and a light box, as a part of their Windows on Broadway exhibition series. His first solo gallery show followed in 1985 at International With Monument in New York's East Village, showcasing the Equilibrium series, a group of works including basketballs suspended in tanks, framed Nike posters, and cast bronze objects.
In the late 1980s, Koons had solo gallery shows in New York, Los Angeles, Chicago, and Cologne that presented stainless steel works from the series Statuary, the paintings of liquor advertisements and stainless steel sculptures of Luxury and Degradation, and the polychrome wood and porcelain sculptures from the Banality series.
In 1990, works from the Made in Heaven series depicting nude images of Koons and his future wife, Ilona Staller, were exhibited at the Venice Biennale. The event sparked controversy, which continued into the following year when the entire series was unveiled in Cologne and New York. However, Koons's ensuing project, the first topiary Puppy, a forty-foot sculpture made of soil and plants, proved to be one of his most popular works when it was unveiled in Germany in 1992. The sculpture has subsequently been shown at the Museum of Contemporary Art (Sydney, 1995) and Rockefeller Center (New York, 2000), and since 1997 has been on view at the Guggenheim Museum Bilbao. The first retrospective of Koons's work in the United States was organized by the San Francisco Museum of Modern Art in 1992 and subsequently traveled to the Walker Art Center, Minneapolis.
Since 2000, Koons's work has been the subject of numerous solo exhibitions at museums including the Museo Archeologico Nazionale di Napoli (2003); the Astrup Fearnley Museum of Modern Art (Oslo, 2004); the Helsinki City Art Museum (2005); the Museum of Contemporary Art (Chicago, 2008 and 2009); the Château de Versailles (France, 2008–09); the Metropolitan Museum of Art (New York, 2008); the Neue Nationalgalerie (Berlin, 2008); the Serpentine Gallery (London, 2009); and the Beyeler Foundation (Riehen, Switzerland, 2012). In 2012, the Schirn Kunsthalle Frankfurt and the Liebieghaus Skulpturensammlung, Frankfurt mounted concurrent shows of his paintings and sculptures, respectively.
Koons is one of the few artists of his generation who has transcended the fine art world to work with a variety of cultural figures, including filmmaker Gus Van Sant, fashion designer Stella McCartney, and pop star Lady Gaga, in addition to having designed a BMW Art Car in 2010. Koons has also partnered with several companies such as Kiehl's and Dom Pérignon for special editions of products, often with proceeds going to charity. He founded the Koons Family Institute, an initiative of the International Center for Missing and Exploited Children.
Among his many honors, Koons was named an Officier de la Legion d'Honneur by the French government in 2010, an Honorary Member of the Royal Academy of the Arts in London in 2010, and Hillary Clinton presented him with the U.S. State Department's Medal of Arts in 2012.
His work can be found in the permanent collections of many prestigious institutions in the United States, including: The Museum of Modern Art (New York); The Art Institute of Chicago; San Francisco Museum of Modern Art; Des Moines Art Center; Hirshhorn Museum and Sculpture Garden (Washington, DC); Los Angeles County Museum of Art; Museum of Contemporary Art, Chicago; Museum of Contemporary Art, Los Angeles; Nasher Sculpture Center (Dallas); Seattle Art Museum; Solomon R. Guggenheim Museum (New York); and Whitney Museum of American Art (New York); as well as a number of important international institutions, such as: Tate Gallery (London); Astrup Fearnley Museet (Oslo, Norway); The National Gallery of Victoria (Melbourne, Australia); Staatsgalerie Stuttgart (Germany); Hamburger Kunsthalle (Germany); Museum Ludwig (Cologne, Germany); Museum of Contemporary Art (Tokyo); Stedelijk Museum (Amsterdam, The Netherlands).
---
JEFF KOONS AT THE WHITNEY
Since the 1980s, Koons's work has frequently been presented at the Whitney in both permanent collection and temporary exhibitions. His work was first displayed at the Whitney during the 1987 Biennial, which included One Ball Total Equilibrium Tank (1985). He participated in the 1989 Biennial, and that same year created a billboard, the first work in the Made in Heaven series, for the Whitney's exhibition Image World: Art and Media Culture. At the Whitney, Koons's work has also appeared in Black Male: Representations of Masculinity in Contemporary American Art (1995–96), The American Century, Part II (1999–2000), Extra-Ordinary: The Everyday Object in American Art (2006–2007), and Full House: Views of the Whitney's Collection at 75 (2006), among other exhibitions.
---
ABOUT THE CATALOGUE
Jeff Koons: A Retrospective will be accompanied by a fully illustrated catalogue, containing an introductory essay by exhibition curator Rothkopf, a noted scholar on the artist's work. In addition, a group of brief essays will examine connections between Koons's art and a variety of critical topics, stressing the breadth of his cultural reach. These will be authored by Bernard Blistène, director of Paris's Museé national d'art moderne; Achim Hochdörfer, director of Munich's Museum Brandhorst; neuroscientist Antonio Damasio; art dealer and curator Jeffery Deitch; art historians Alexander Nagel and Pamela Lee; Artforum Editor in Chief Michelle Kuo; novelist Rachel Kushner; New Yorker columnist James Surowiecki; and Isabelle Graw, critic and co-founding editor of Texte zur Kunst.
---
EXHIBITION SUPPORT
This exhibition is sponsored by Bank of America and
Hanjin Shipping Co., Ltd.



Major support is provided by Gagosian Gallery.
---
ABOUT THE WHITNEY
The Whitney Museum of American Art is the world's leading museum of twentieth-century and contemporary art of the United States. Focusing particularly on works by living artists, the Whitney is celebrated for presenting important exhibitions and for its renowned collection, which comprises over 19,000 works by more than 2,900 artists. With a history of exhibiting the most promising and influential artists and provoking intense debate, the Whitney Biennial, the Museum's signature exhibition, has become the most important survey of the state of contemporary art in the United States. In addition to its landmark exhibitions, the Museum is known internationally for events and educational programs of exceptional significance and as a center for research, scholarship, and conservation.
Founded by sculptor and arts patron Gertrude Vanderbilt Whitney in 1930, the Whitney was first housed on West 8th Street in Greenwich Village. The Museum relocated in 1954 to West 54th Street and, in 1966, inaugurated its present home, designed by Marcel Breuer, at 945 Madison Avenue on the Upper East Side. While its vibrant program of exhibitions and events continues uptown, the Whitney is constructing a new building, designed by Renzo Piano, in downtown Manhattan. Located at the corner of Gansevoort and Washington Streets in the Meatpacking District, at the southern entrance to the High Line, the new building, which has generated immense momentum and support, will enable the Whitney to vastly increase the size and scope of its exhibition and programming space. Ground was broken on the new building in May 2011, and it is projected to open to the public in spring 2015.
---
THE 2014 EXHIBITIONS
Robert Indiana: Beyond LOVE
2013 Through January 5, 2014
Rituals of Rented Island: Object Theater, Loft Performance,
and the New Psychodrama—Manhattan, 1970–1980
2013 Through February 2, 2014
T. J. Wilcox: In the Air
2013 Through February 9, 2014
Edward Steichen in the 1920s and 1930s: A Recent Acquisition
2013 Through February 23, 2014
Sarah Michelson: 4
January 24–February 2, 2014
In Parts
2013 Through February 23, 2014
and
YOU STILL HAVE A CHANCE TO SEE     the remarkable:
2014 Whitney Biennial
March 7–May 25, 2014
Jeff Koons: A Retrospective
June 27–October 19, 2014
American Legends: From Calder to O'Keeffe
Ongoing
The Whitney Museum is located at 945 Madison Avenue at 75th Street, New York City. Museum hours are: Wednesday, Thursday, Saturday, and Sunday from 11 am to 6 pm, Friday from 1 pm to 9 pm, closed Monday and Tuesday. General admission: $20. Full-time students and visitors ages 19–25 and 65 & over: $16. Visitors 18 & under and Whitney members: FREE. Admission is pay-what-you-wish on Fridays, 6–9 pm. For general information, please call (212) 570-3600 or visit whitney.org.
2 Comments »
It's remarkable to go to see this site and reading the views
of all colleagues about this article, while I am also eager of getting experience.

Comment by West London | May 2, 2014 |

… [Trackback]

[…] Read More Infos here: luckygirlmedia.wordpress.com/2014/04/03/whitney-museum-announces-its-closing-exhibition-in-2014/ […]

Trackback by Homepage | October 7, 2014 |
blasts from our past

LGM faves